On Thursday March 30, 2017, youth, youth advocates,street outreach workers, law enforcement, and law makers gathered at the Massachusetts State House in Boston to advocate for continued funding of the Shannon Grant and Safe and Successful Youth Initiative programs. These grants support intervention and prevention focused youth programs in Cities across the state and are integral pieces in community efforts to address issues of youth violence.
Members of Lawrence Family Development's SISU program (Lawrence Youth Team and YouthBuild Lawrence) joined the youth voices echoing throughout the State House's Great Hall and testifying to their legislators about the importance of these proven programs.
LYT member, Christian Acosta was one of two youth voices chosen to share his story during the event.
"Good Morning State Officials,Honorable Guests, Mentors and Peers: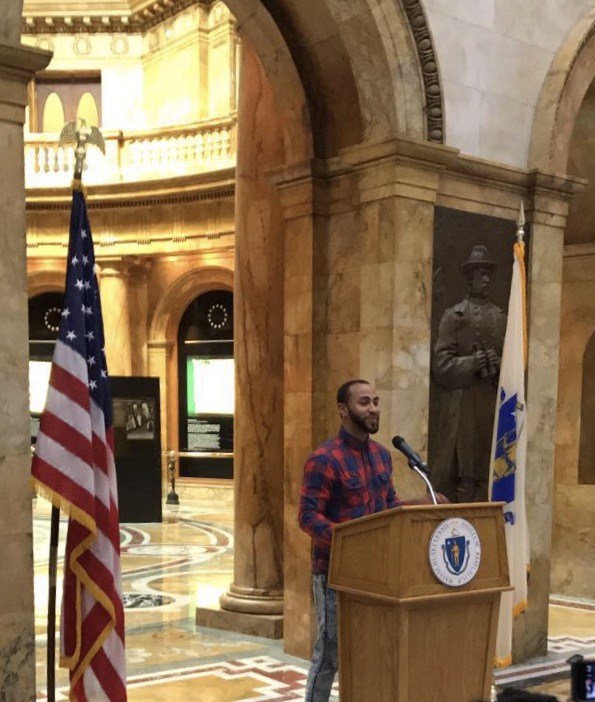 My name is Christian Acosta and I am proudly from Lawrence MA.
Growing up in Lawrence, has not been an easy road for me. At the age of eleven, I got taken away from my parents because of an unstable home environment – it was at that point my entire life changed. For the next 3 years, I was in and out of jail. Having to practically raise myself throughout my entire childhood, life has not been easy for me. Struggles and hardships seemed endless….that was until a pivotal moment in my life where the Safe and Successful Youth Initiative or Lawrence Youth Team saved me.
I was first introduced to LYT by the then educational liaison at Department of Youth Services and the LYT Program Manager. I did not think that LYT could help me or change my way of thinking. Being reliant on myself for so long, I was struggling outside of the program- selling drugs, engaging in harmful behavior….I was losing myself. I remember the exact day I went to program, I had no money, no food – the only people I could think of at that one moment of desperation was the staff at LYT. They put me straight to work and taught me the tough lesson,
'Closed mouths don't get fed..'
This is actually a quote we use a lot during our time at LYT. I worked on improving myself and fast forward five years later, I am standing here before you, a changed man.
What LYT offers me is a family – our program manager is like my older brother, my case manager is like an aunt, street workers are like my old, wise uncles and LYT youth are my brothers. During my time in the program I was able to gain opportunities in construction, demolition, and landscaping. One of the greatest achievements of my life has been gaining entry into college, where I am currently studying Psychology. I also received a full time job with Lawrence Family Development where I hold the position of Construction Assistant Trainer at the SISU Center– it is with great pride that I am able to mentor and motivate my Lawrence brothers and sisters every day.
I just want to end by stating that in Lawrence, there was no teen center for youth such as myself for a number of years. I remember LYT staff working out of their cars, they had no offices…they worked truly from their hearts. Now I am happy to state that Lawrence Family Development has taken the initiative to form a comprehensive youth system that will help youth throughout our city better themselves"
In February of 2017, Christian was hired as a full time employee by Lawrence Family Development to fill the role of Carpentry Trainer. Christian is replacing long time YouthBuild Lawrence staff member Domingo Corona. Domingo was with YouthBuild Lawernce for 15 years and similar to Christian, started at the organization as a program participant. Originally a YouthBuild Lawrence participant, Domingo was hired full time as a Carpentry Trainer because of his commitment to his family, his community, and the mission of YouthBuild.
We know that Christian will do himself, his community, his LYT family, and Lawrence Family Development proud and will continue to pave the way Domingo started, 15 years ago, for other participants in our SISU program.